Boost Your DOOH Strategy: The Effectiveness of QR Codes on Screens
Technology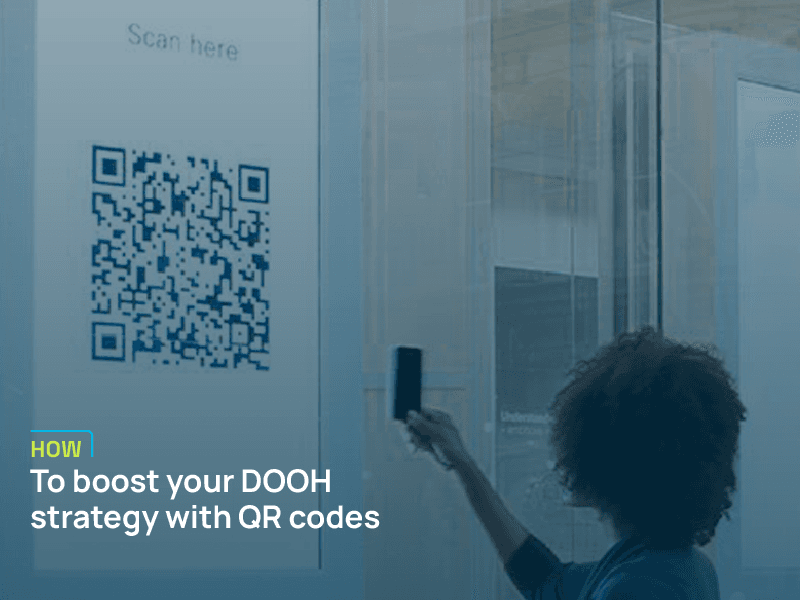 In the fast-paced world of digital marketing and advertising, every opportunity counts. In that sense, QR codes are a strategic tool in digital outdoor advertising (DOOH) campaigns. Why should you consider incorporating QR codes into your next campaign?
Last update: October 18, 2023
Targeted traffic driving and effective measurement
The inclusion of QR codes on billboards represents an excellent opportunity to drive potential customers directly to your website or app. In addition, these codes provide a reliable measurement avenue to evaluate the performance of your campaigns. Each time a user scans the code, their identifier is recorded, allowing you to quantify how many people have interacted with the code and analyze their subsequent actions. This translates into valuable information to adjust and optimize your strategies.
Impactful and concise promotion
The limited display time on screens requires an immediate impact strategy. QR codes offer an effective solution by allowing viewers to engage directly with your content with a simple scan. They are a gateway to the digital world that aligns perfectly with the nature of outdoor advertising. By incorporating a QR code into your ad, you target that impact precisely and consistently with your campaign objectives.
Lead and contact generation
QR codes also have the potential to be a powerful tool for lead generation. By directing scanners to your website or app, you can invite them to fill out forms or provide information, allowing you to capture quality leads directly from your DOOH ads. These qualified contacts can enrich your database and fuel your subsequent marketing efforts.
Smart Design for Effectiveness
Simplicity is vital when it comes to QR codes. Avoid overloading the code with additional words; instead, allow the QR to function as a clear and direct call to action. Ensure the code is large enough to allow for easy scanning while maintaining a balance with negative space for a crisp display.
It should be clearly readable, it is especially efficient on totems or screens where the audience can get close or have enough time to be captured, such as on a traffic light. Be sure to define in the creative the benefits of scanning the QR code to capture the audience's attention effectively.
Conclusion
In summary, integrating QR codes into your billboards can make a difference in your DOOH strategy. If you align them with your marketing objectives and creativity, using impactful and effective messaging, you will ensure your campaign's success. We are in an era where instant interaction is key, and QR codes are a possibility that can open new doors in your advertising strategy. Power your DOOH campaign with QR codes and watch your interaction and performance soar.