What is digital out-of-home (DOOH) advertising?
Technology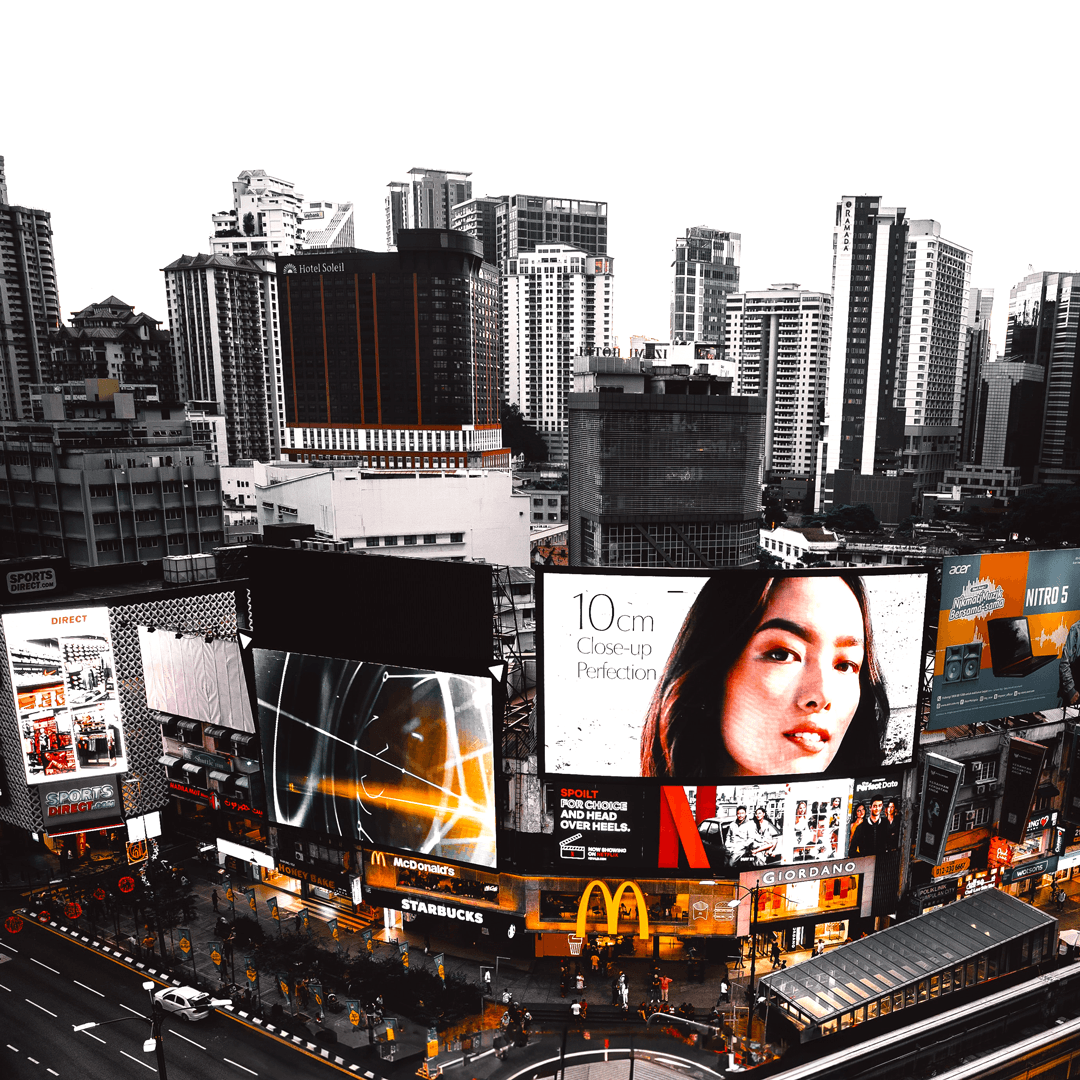 In this article we will explore what this form of advertising is, how it benefits from a programmatic approach and its key advantages, as well as examples of its successful use in enterprises.
Last update: June 27, 2023
What is Digital Out-of-Home (DOOH) advertising:
In the digital age we live in, advertising has evolved rapidly to adapt to changing consumer habits and new technologies. One of the fields in constant growth is Out-of-Home Advertising (OOH).
Digital Out-of-Home Advertising (DOOH) refers to the digitization of outdoor advertising. This marketing channel uses digital screens located in public places to display advertisements and promotional messages. The types of screens can be LED, projection screens, LCD display panels and any other digital media that allows content to be transmitted dynamically and digitally.
What is the programmatic approach (pDOOH)?
One of the most prominent features of DOOH advertising is its programmatic approach. Programmatic refers to the use of algorithms and automated technology to make real-time ad buying and distribution decisions. In the case of DOOH, this means that ads can be tailored and personalized based on location, time of day, weather conditions and other relevant factors to maximize impact.
Advantages of Digital Out-of-Home Advertising:
Increased reach and visibility: pDOOH allows mass audiences to be reached in high-traffic locations, such as shopping malls, public transportation stations and busy streets. This provides significant exposure for brands and allows them to reach a diverse audience and generate better consumer experiences.
In this article, we explore the benefits of outdoor programmatic on the consumer experience.
Flexibility and adaptability: In contrast to traditional outdoor advertising, DOOH allows for rapid changes and real-time updates. Advertisers can instantly modify and optimize their content to reflect the changing needs of their audience.
In this article, find out how pain points can be overcome and audience needs met.
Interactivity and creativity: One of the advantages of DOOH is that it allows the integration of interactive elements, such as touch screens and augmented reality, which provides a more immersive and attractive experience for the public. In addition, digital screens allow the playback of videos and eye-catching animations, effectively capturing attention.
In this article, you can learn more about the importance of creative content:
Measurement and analytics: Unlike traditional out-of-home advertising, digital out-of-home allows the collection of accurate data on ad exposure. This includes information on the number of impressions, duration of display and demographics, improving attribution in outdoor advertising. This data is valuable for measuring campaign performance and making strategic adjustments.
In this article, you can see the importance of proper measurement in campaigns.
Successful examples of DOOH in Enterprises:
Oreo: The renowned cookie brand has used DOOH advertising on the Taggify platform in a creative way, combining their branding and videos in their campaigns. In addition, they have incorporated interactive elements, a key element of their strategy was the combination of outdoor digital with their social networks. Demonstrating that with the development of programmatic OOH can be effectively combined with other advertising channels, forming an integrated marketing strategy.
Click here to see the complete Oreo case.
Spotify: The streaming music platform has employed DOOH to create highly targeted and personalized campaigns.  Employing real-time data, Spotify has displayed ads that are tailored to the musical tastes and preferences of passersby in specific locations, using Taggify's DSP platform.
Watch the full case of Spotify here.
Nike: The U.S. sports brand is known for its challenging approach, has implemented campaigns that target a young target. The pipe brand used DOOH to promote offers, depending on the time of day and the state of traffic, showing different animated creatives. The ads were updated automatically and dynamically, a feature enabled by Taggify's DSP.
To see the Nike full case, click here.
The future of outdoor advertising:
Digital Out-of-Home Advertising (DOOH) is an innovative and effective way to connect brands with audiences in public environments. The programmatic approach, flexibility, and measurability make it a powerful and evolving tool. The development of Taggify's technology platforms enables and delivers breakthroughs for agencies and brands that want a complete advertising strategy. They streamline processes that achieve results, increasing the impact of advertising campaigns and improving return on investment (ROI).
Last updated: June 13, 2023