Digital Signage CMS with Exclusive Events
Company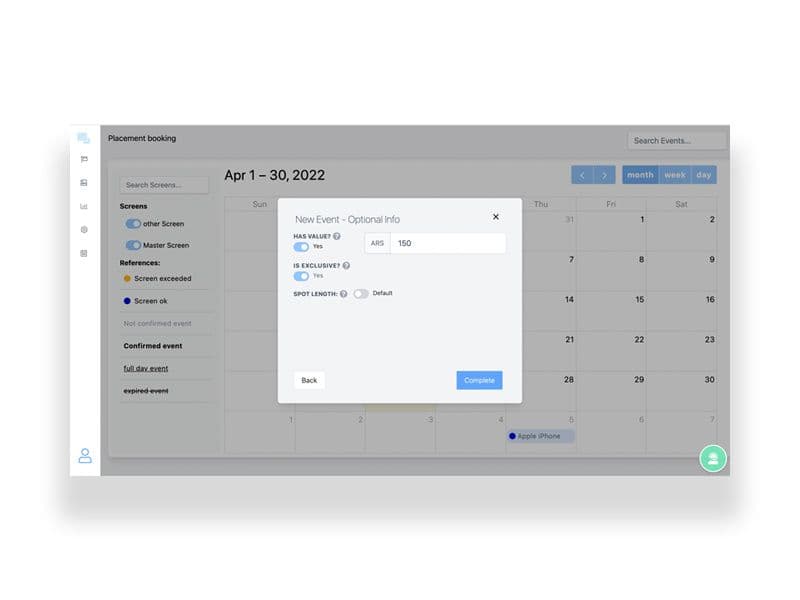 Taggify, the programmatic DOOH oriented company, pioneer in the world, launched a new version of its Digital Signage CMS that makes life easier to screen owners.
Last update: April 26, 2022
This new launch, helps outdoor media owners to plan campaigns and define specific events with or without exclusivities in a specific range of days or hours. With the chance to setup a specific rate for this action. The platform also helps to offer the screen inventory into the programmatic ecosystem. Achieving this way to maximize their incomes with programmatic advertising.
About Digital Signage CMS:
This is a screen and content management specifically oriented to outdoor media, which exhibit advertising spaces in indoor or outdoor places. This platform was developed from scratch by Taggify team, having in mind the end-to-end user experience. Achieving simplicity and velocity to add inventory and content to the medium, and a simple integration to offer programmatic spaces, that simplifies the media buyers experience through our DOOH DSP. "The result is a simple and fast way to buy outdoor media, which directly impact to final users walking in the street, showing the right message at the right time and place".
About Taggify:
Taggify is a technology company oriented to programmatic advertising focused in Outdoor Advertising. We developed the programmatic buying by integrating 3rd party data from certified and trusted companies in different markets. Actually, with presence in the most relevant countries in Latin America and countries from other continents such as: Turkey, Spain, Arab Emirates and India. We ran more than 2,000 pDOOH (Programmatic Digital Out of Home) campaigns for top brands: Amazon, Spotify, Google, Starbucks, Walmart, Peugeot, Volkswagen, McDonalds and many others.