Taggify is one of the most promising tech companies in LATAM
Company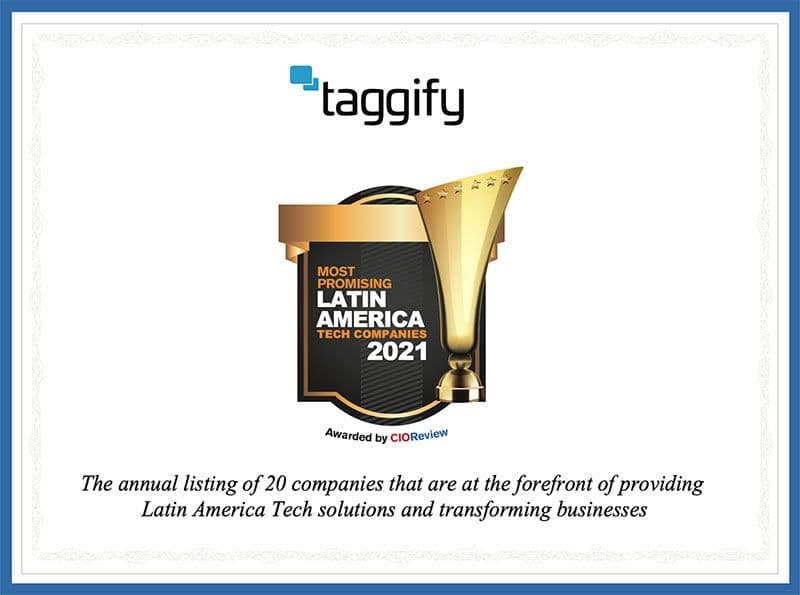 Conquering the Digital Out of Home (DOOH) Market.
Last update: November 8, 2021
In September 2021, We received the honor to be awarded by CIO Review Magazine as one of the most promising Latin America tech companies for 2021. This encourage us to keep our roadmap firm and solid.
Here's the Interview that CIO Review made to our founders.
Whether it be the re-launch of Peugeot's brand on more than ten screens at the same time or showcasing Google's Dynamic creatives to specific audiences, Taggify works behind the curtains to bring these ideas to fruition. "As a technological company, we have a global vision and we believe we have a tremendous opportunity to succeed," says Julio Chamizo, the founder of Taggify. What gives them the capability to help several prestigious clients in a competent manner and conquer the Digital Out of Home (DOOH) market globally is its Argentina-based R&D team and a full-stack programmatic DOOH platform.
Taggify's DOOH platform helps brands reach outdoor audiences by showing them relevant ads in real-time— generating a better experience in the market.
"We made our platform from scratch thinking about our two main users: screen owners and advertisers, to help them simplify the buying process," mentions Santiago Mendive, the CEO and Co-Founder of Taggify. "With this we had accomplished something that was unreal for many years and now you can have all the different inventories from the Publishers, in one place."
For advertisers, the company offers a programmatic platform that can help them spend their budgets wisely as it shows the right screen at the right time where the main target audience is. Taggify leverages DMP/ Agnostic Data Aggregator, Bidder, and DSP technologies to deliver the solution.
While Agnostic Data Aggregator predicts the right time and place to buy, Bidder decides if the screen is the right one in milliseconds. And DSP helps the advertiser to plan, forecast, and optimize each campaign.
Taggify has also developed a CMS that helps media owners easily manage their inventory. The tool allows them to facilitate content management, with a clear report section to track their direct sales and programmatic income.
"Another added value we bring: it generates an extra income from the programmatic ecosystem," adds Anton Kostylev, Tech Partner, Founder, and CTO of Taggify. The solution consists of a Screen Player that syncs with the cloud-based platform to manage the screen creatives and a CMS platform, which helps the publisher organize their entire inventory / customers / and reports in real-time.
Further, the company also has a supply-side platform that allows the media owner to increase their revenue in prime-time, setting specific pricing rules and opening each available spot to a waterfall demand in just milliseconds.
Apart from its innovative platform and superlative team, what steers Taggify ahead is its focus on technology and customer service. "Our response time is less than one hour to answer our managed accounts. This sense of urgency is appreciated by all our customers and of course, our tech works," mentions Mendive.
Moreover, the company is always at the cusp of helping clients, and a similar effort witnessed them put its R&D team to develop the Digital Signage CMS at the beginning of the pandemic.
As a result, Taggify has expanded beyond the LATAM (Argentina, Brazil, and Mexico) region into different markets worldwide. "In Africa our first steps are in South Africa; in Asia, we have started in India; and in Europe, we are starting in Spain," states Kostylev.
Chamizo believes that there is an incredible opportunity to do business with these markets because Programmatic OOH is still something new almost everywhere. "We see a lot of growth in DOOH Advertising spends in the upcoming years as specialists and studies around the world are showing us every-day that we are on the right track. We will keep building technology to help each part of the business to succeed. We will add three more businesses in the near future into the Platform, namely, mobile, connected TV's, and social. This will enable us to give our customers a 360 solution for their clients" he concludes.
Article Source: CIOReview.