From Colombia, EnMedio and MarketMedios join Taggify's platform
News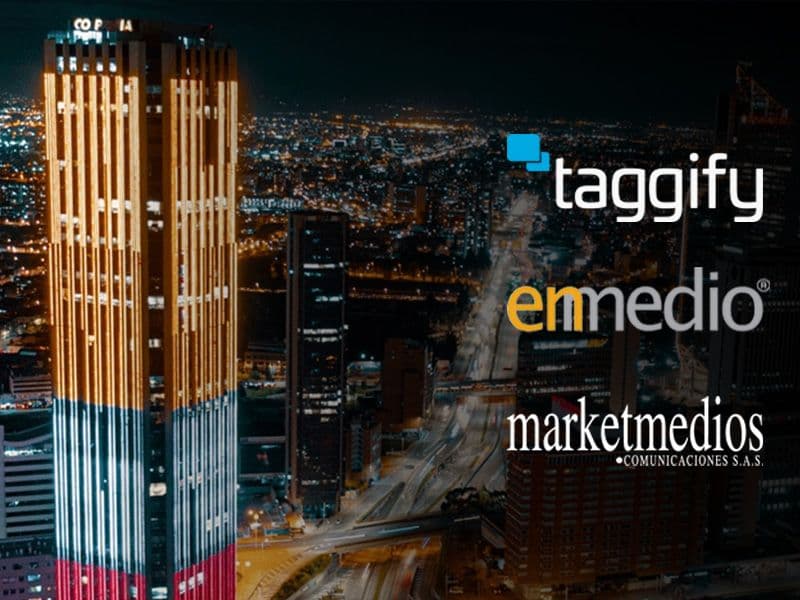 The important Digital Communication and Media Marketing companies add an inventory of more than 600 screens in the main cities of Colombia to the programmatic platform, offering greater reach and all the tools and features of Taggify.
Last update: February 17, 2023
EnMedio is a company founded in 2006, being the first Digital Signage company in Colombia. It has numerous national and international awards throughout its 17 years of activity, currently being a reference and leader in the Andean market. Its inventory of digital screens exceeds 7,000 and includes all its variants, from Totems and Videowalls to Billboards and Iconic Billboards. In addition, it has a presence not only in Colombia, but also in the main cities of Argentina, Chile, Ecuador, Mexico, and Peru.
Regarding MarketMedios, it's a Colombian company that offers a wide range of possibilities in media that is not limited to Digital Out of Home, but also includes advertising on radio and public service bills, among others, both for retail and wholesale. With more than 20 years of experience in advertising marketing and numerous recognitions and awards such as the FIP, MarketMedios has a team of professionals specialized in making brands have greater exposure in traditional and innovative media. Concerning its inventory of digital screens, these can be found in all their variants and sizes as well as in many spaces and places ranging from public transport stations and international airports to shopping centers and highways with high vehicular traffic.
Taggify celebrates a new expansion of screens in Colombia and the region, in an agreement that demonstrates the current growth trend of the programmatic Digital Out of Home industry. Julio Chamizo, CEO, founder and Chief Operating Officer of Taggify commented on this that, just as exponential growth in annual investment by advertisers is expected, these strategic alliances that transcend borders, "represent a triumph for confidence and consolidation of this industry. We know that there is still much to do and achieve, but important advances towards the consolidation of pDOOH and its capacity to transform the ways of communicating in public spaces are celebrated every day". He also highlighted the commitment of Latin American regional companies to the progress and advancement of the industry: "currently, Latam is demonstrating a commitment and a capacity that fits the growing demand for solutions".