DOOH OH OH! Programmatic Christmas with Taggify
Market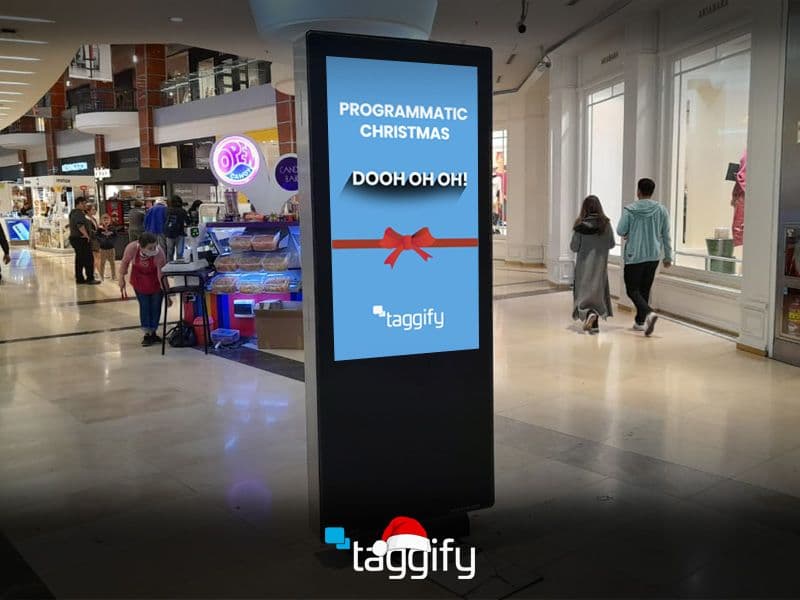 Holiday season is already arriving and with it announcements and advertisements saturation in all the media. For this reason, every detail within a campaign becomes essential to achieve the proposed objectives in one of the most important times of the year for brands and sales. The last-minute marketing strategies offered by pDOOH are one of those ideal details for those events that have their deadline soon, such as Christmas and New Year's Eve in the coming weeks.
Last update: December 15, 2022
The most used inventories of the "last minute" are usually digital totems in indoor circuits of shopping malls and shopping centers. There, the campaign strategies make use of the proximity to the stores and the purchasing context in which the audience that consumes them is located. These last minute moves can make a real difference and here are some tips to keep in mind and maximize its use:
The keywords and phrases that targeting uses during these dates are usually one of the most important elements used by this format. They not only locate us in time but also provide an element of identity with the public and the event.
Countdowns are often a great last minute tool as they create a sense of urgency that motivates customers to act quickly and convert earlier than normal. In addition, it informs customers that they may not know when a business event starts or ends, thus prompting a purchase decision.
Calls to Action (CTA) have a proven ability to increase the generation of leads and conversions within the last minute. The most successful CTAs in this format use 3 key elements: Placement within the ad, Featured Design, and Copy/Text that invites customer action.
The possibilities of this format and pDOOH medium in general become innumerable, making it possible to adapt to the many other factors that can go through a campaign. The times, places and availability of investment usually represent a condition, but with a tool like the Taggify programmatic platform, noted for its facilities, clarity and effectiveness, these become a resource to achieve the proposed objectives. If the medium is still unknown, we invite you to consult our customer service with any questions in order to bring you closer to the benefits of this revolutionary medium for the advertising industry.