Programmatic DOOH: Advertising vanguard
Market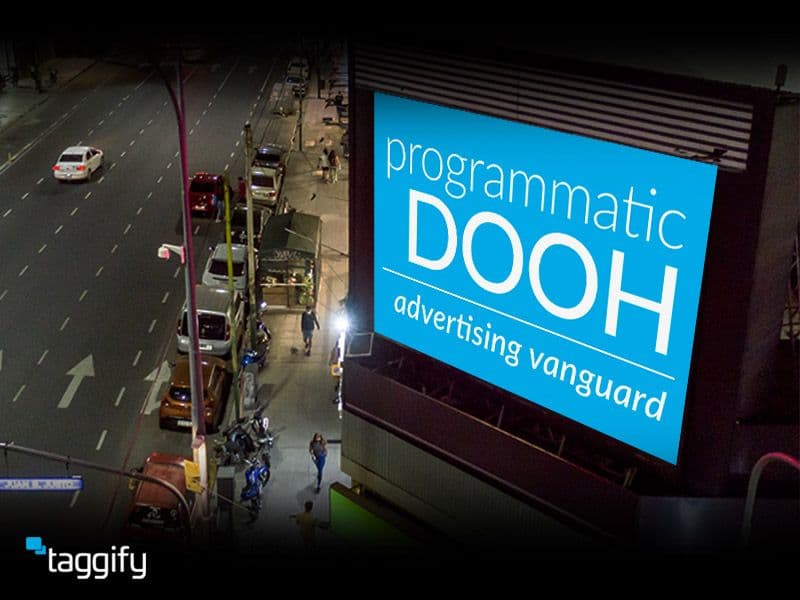 Demand Side Platform (DSP) is a place where advertisers and agencies buy inventory in an automated, efficient and optimized way and have become the forefront of advertising on public roads. Its capabilities and benefits position it as one of the essential tools for programmatic DOOH buyers due to the high performance that they cannot miss:
Last update: February 6, 2023
The range of creative possibilities offered by pDOOH media is stronger and more informative than ever. This capability offers creative teams the possibility of developing dynamic campaigns with highly personalized and specific messages for each moment and intended targeting.
One of the biggest selling points of programmatic technology is that it offers a streamlined process of buying, planning, and executing DOOH advertising. The entire chain that involves setting up and activating a campaign can now be resolved through a single centralized platform such as Taggify, also offering time and resource efficiency.
pDOOH offers a versatility that no other advertising medium allows, maximizing the impact and results of a campaign, thus achieving a cost per contact on public roads (OTS - opportunity to see).
The measurement capacity offered by programmatic tools is unmatched thanks to the new technologies applied. The impact of DOOH exposure can be determined in several ways, providing different useful information in each method, such as brand recognition, foot traffic, web conversion and many more.
Recognizing that buying OOH programmatically allows flexibility to respond to changing consumer contexts and behavior, demand for programmatic DOOH has increased from advertisers across all sectors, with media executives reporting increases in both the number of advertisers using invest in the channel as in the amount of budget invested. Once again, media executives identify the ability to employ a host of different data sources to target consumers at a granular level as a key factor in the growth of programmatic DOOH. Many are excited about the prospect of overlaying real-time audience data to target consumers and optimize campaigns and believe the ability to do this across all campaigns will drive further growth in the channel.