Recovery of the pDOOH industry in airports worldwide
Market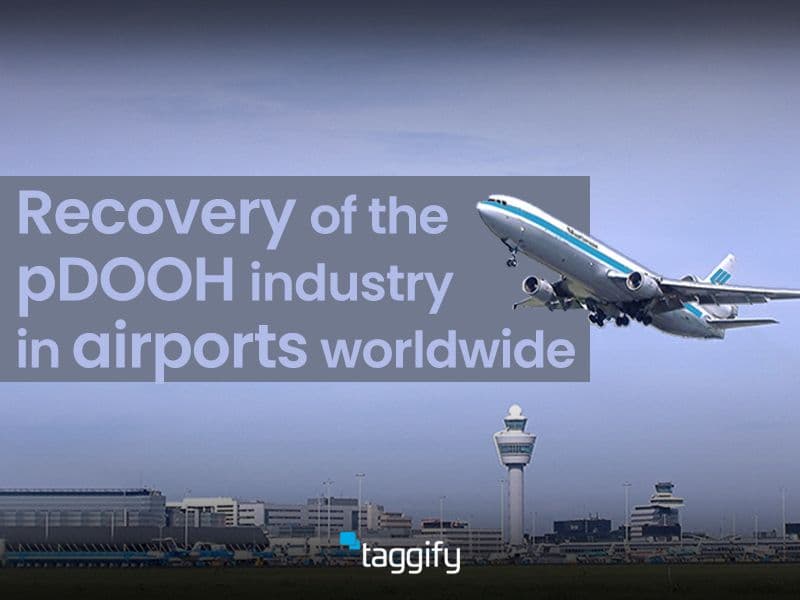 At an accelerated pace, the aviation industry is overcoming the breakthrough stage it experienced during the pandemic years. A report recently published by the International Air Transport Association (IATA) shows a significant recovery of circulation with very positive numbers. Along with this sector, the pDOOH advertising industry is also picking up, making it essential for brands and advertisers to know how to take advantage of this moment in places as unique for advertising and campaigns as airports.
Last update: March 14, 2023
Through a programmatic platform like Taggify, you can access a large inventory of screens at Latin American airports. According to the IATA, this region represented the sector with the highest recovery in its values: traffic increased by 119.2% year-on-year in 2022, capacity growth of 93.3%, and an occupancy factor that reached 82.2%.
The uniqueness of airports lies in the singularity of the experience, place, and high emotional load of air travel to which users are exposed. In addition, the prolonged exposure, targeting possibilities (families, businessmen, tourists, etc.), and the importance or prestige that it represents for a brand to have a presence in places where audiences are composed of individuals from all over the world make airports a unique place to promote advertising campaigns.
Currently, Taggify offers access to screens located in boarding areas, waiting, entry and exit, among other strategic points with a high flow of passengers from various national and international airports in Brazil, Chile, Colombia and Mexico.